News to Date
For a quick overview of upcoming events:
See 'Diary Dates' on this page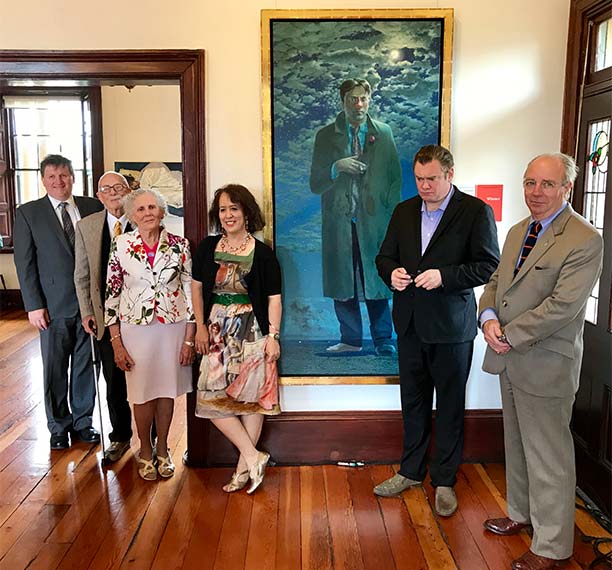 Doug Moran Portrait Prize 2017
23 Oct, 2017
Wendy Sharpe was a judge for the Doug Moran Portrait Prize 2017.
Left to right: Peter Moran, Daniel Thomas, Greta Moran, Wendy Sharpe, Mclean Edwards, and winner of the 2017 Doug Moran Prize Tim Storrier.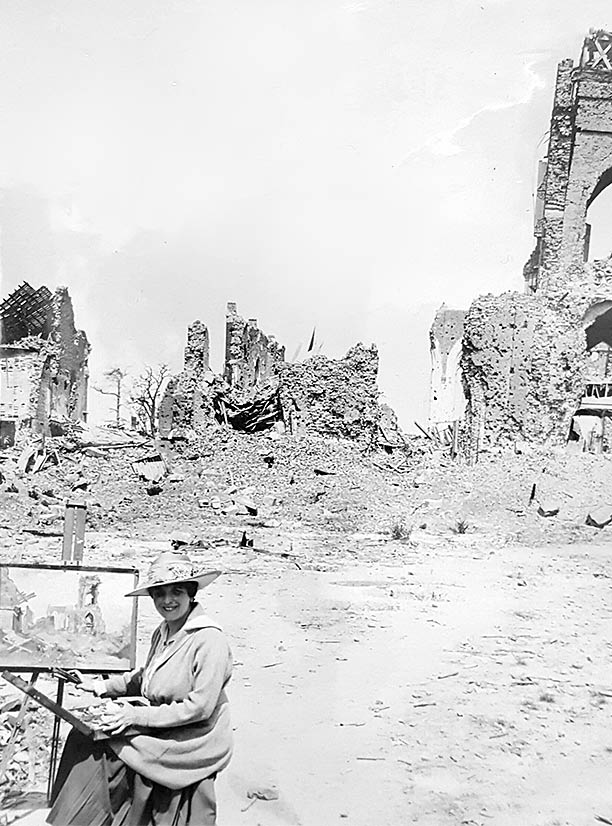 >
On the Western Front
April/May, 2017
The photograph shows Australian artist Evelyn Chapman painting a ruined church at Villers-Bretonneux on the Western Front in 1919. Wendy is currently making a study of Evelyn after making a visit to this location.

---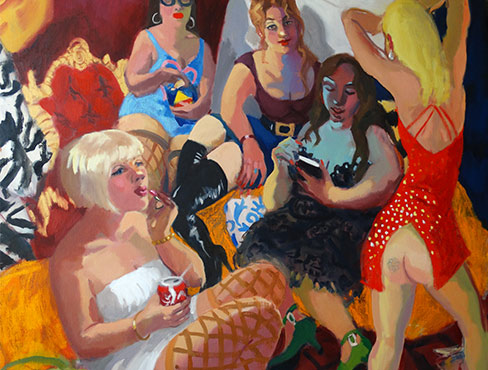 Clayton Utz - 1 Bligh St, Sydney
18 September 2017 - for six months
Thirty seven artworks by Wendy Sharpe now grace the Sydney offices of Clayton Utz for its inaugural Arts Partnership, Clayton Utz Deputy Chief Executive Partner Bruce Cooper said the new partnership was an innovative concept, offering a unique cultural experience for the firm's clients and people.

The Clayton Utz Art Partnership – aims to support Australian artists and share their talents with a wider audience through regular six-monthly art exhibitions and an Artist-in-Residence program at the firm's 1 Bligh Street premises in Sydney.
Above: (detail) Demoiselles Darlinghurst 2012 Oil on linen 182 x 182cm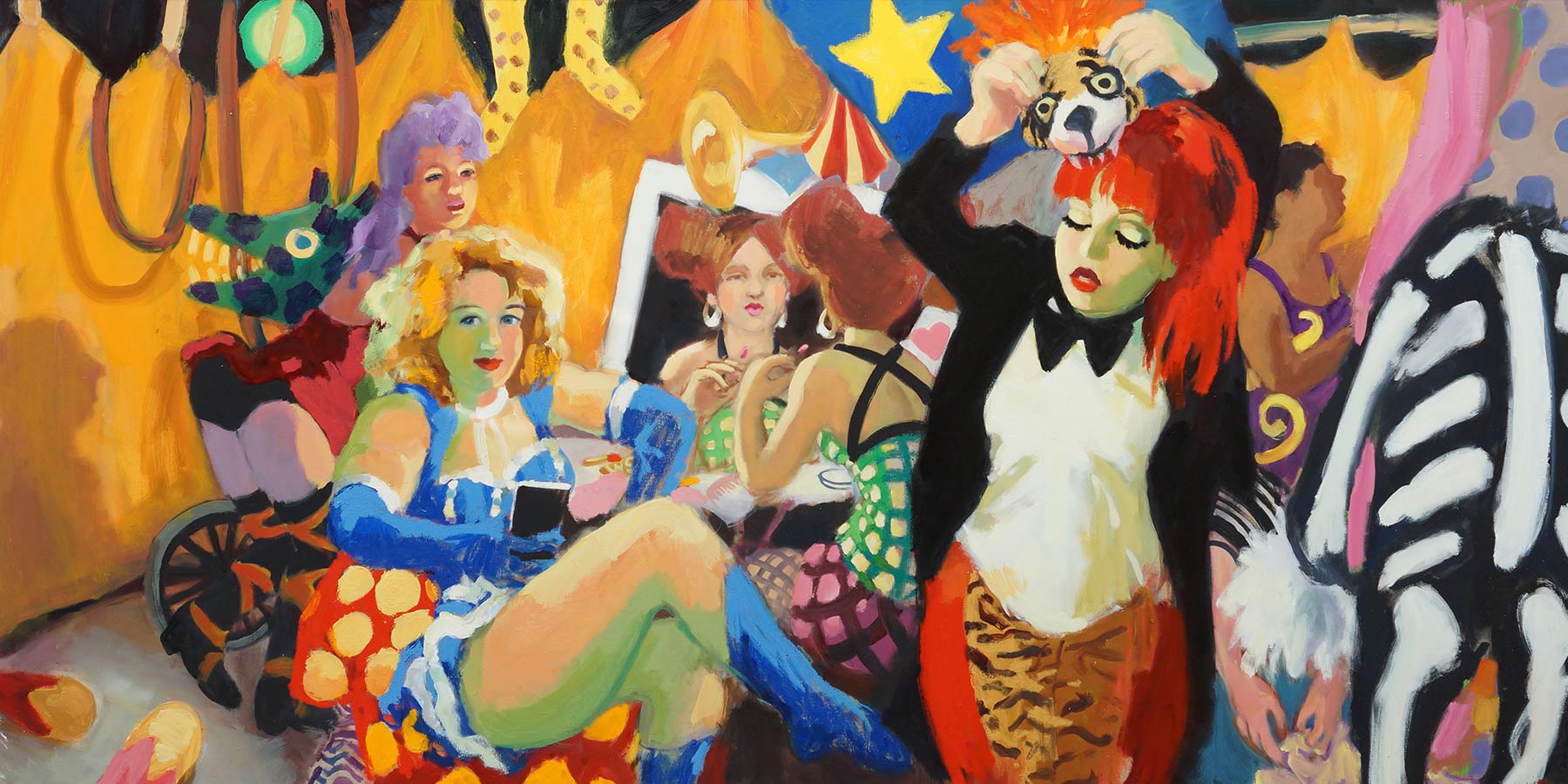 Available to download or listen
Broadcast Tue 8 August 10:23am 2017
In an interview for ABC Radio National 'Behind the curtain with painter Wendy Sharpe' Wendy reveals more on the real lives of some of Australia's circus and burlesque performers. (Above: Dressing Room - Circus 120 x 240cm Oil on Linen) Listen or download via the following link.
ABC LINK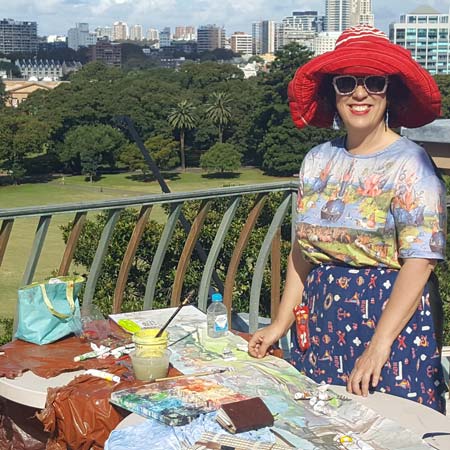 State Library of NSW, Macquarie St, Sydney.
02 October 2017
Wendy Sharpe is excited to be among only a handful of artists to date to be given exclusive back-of-house access to the 107 year-old Mitchell Building, which has not undergone any major work since 1964.
"The State Library has always been a place close to my heart," said Wendy. "I used to come here with my father historian Alan Sharpe while he was researching various historic texts and photographs. I have also spent time here researching the endlessly fascinating collection for various projects," Wendy said.
She plans to draw and paint – mostly in gouache (opaque watercolour) – a range of subjects and views from the rooftop right down to the floors below street level, depicting the major changes that are taking place.
DAILY TELEGRAPH ARTICLE
STATE LIBRARY LINK